×
Photo by Keith McCoy
0213 Flavor Frenzy
Pastry Art Owner Dennis Gregg helps Taste of Homewood participant select the right flavor of Baby Bite at last year's event.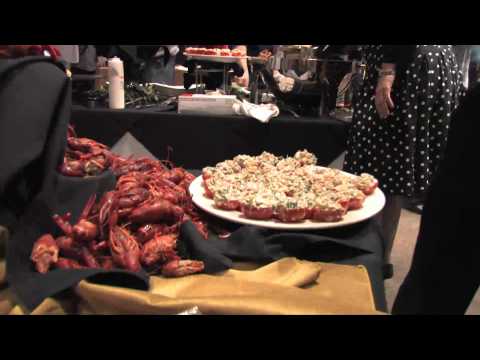 There is only one night each year that gathers the best Homewoood eats in one room. And this year it's set for Feb. 21.
The 12th annual Taste of Homewood event will take place on that Thursday from 5:30-8:30 p.m. at Rosewood Hall in SOHO.
"I look forward to everyone enjoying the food of Homewood and all the many tastes of the different restaurants," said Homewood Chamber of Commerce Director Tricia Ford. "We feature something for every palate."
This year's participants are:
Birmingham Beverage
Birmingham Budweiser
Brio Tuscan Grill
Buffalo Rock/Pepsi
Century Catering Virginia College
Chick-Fil-A
Dreamcakes
Do Di Yo's
Full Moon Bar-B-Que
Homewood Gourmet
Jackson's Bar & Bistro
Campus Dining,  Inc. at Samford University
Jo Jo's Diner on Broadway
Johnny's
Little Donkey
Michael's
Moe's
Nabeel's Café & Market
O'Henry's Coffees
Pastry Art
Piggly Wiggly
Pinches Taco
Ruth Chris Steakhouse
Salsarita's Fresh Cantina
Savages Bakery
The Club
The Happy Catering Company
Urban Cookhouse
Zea Rotisserie & Grill
Entertainment will be provided by Alan Barlow, and like always, the event will feature a a Mardi Gras theme.
The Chamber started Taste of Homewood 12 years ago with only a few restaurants participating, but it began to grow after finding a new home at Rosewood Hall.
This year the Chamber anticipates hosting around 500 guests. Ford said there is also increased interest from people all over Birmingham and the state in the event. Money raised is returned to the Chamber to support local businesses.
The Homewood Star, CBS 42, Alagasco and Samford University Radio are sponsoring the event. Tickets to Taste of Homewood are $30 in advance or $35 at the door. Tickets can be purchased at the Homewood Chamber of Commerce, located in the Homewood Library, or online at homewoodchamber.com. For more information on Taste of Homewood, call Tricia Ford at 871-5631.