×
Photo by Brian Wallace.
0214 Ed's Pet World
Ed's Pet World has been home to a variety of reptiles and other pets for the past 30 years.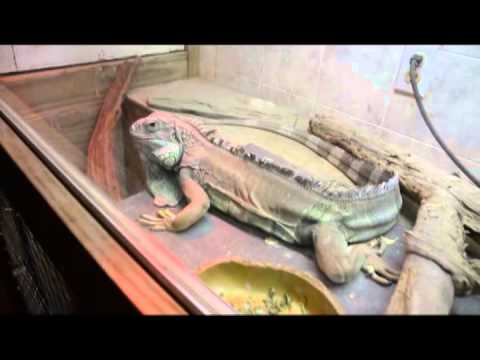 Pets are a priority at Ed's Pet World on 18th Street South. That may seem obvious, but in a world of diversity and perfectly groomed pet stores offering every item you could think of, the people behind it make it clear that the emphasis is on the cute, creepy and crawly of this world over the aesthetic.
Lining the floor of Ed's Pet World are a variety of critters, including a 40-year-old tortoise and a lovable dog named Reese. But warning: Don't expect them to move out of your way. Fleeing from the feet of customers has become more like a game of chicken that they don't care about losing.
In every crack and crevice of the store, you will find the rest of the crew that comprise this unusual collection of living things. Founded more than 30 years ago by Ed Cosby, it was meant to be mom and pop pet store filled with unusual characters. Mission accomplished — decades later that tradition has been carried on very well by Ed's son, Seth, and his staff.
"Seth's love and knowledge of pets is what really sets him apart," said salesman Sebastian Jackson. "I think he was hatched here out of an egg, 'cause he has been here forever."
Jackson himself has spent 12 years cultivating a pet knowledge base and a giant love of all that creeps, crawls and walks.
"I can now offer a lot of advice and information for pet lovers to care for almost any creature," Jackson said. "It allows me to interact and get to know everyone and I like that and showing them what we have."
Whether moving about the store or behind glass, you can find rabbits, turtles, snakes, scorpions, birds, fish, water dragons, bearded dragons and even an alligator. If you are nice enough, they might let you hold the 10-foot long python.
"Kids love that thing when we show up with it," Jackson said. "All of our pets enjoy getting out and about."
The store brings its animals to homes for interactive birthday parties for children for a time of both learning and play. If you have an old aquarium or pond that needs to be replaced or repaired, they can also take care of that while they are there.
A passion for animals is obvious in this old building, but the business' longevity is owed largely to a customer base that has supported it for three decades.
 "People just know who we are," Jackson said. "But I truly feel they are all our friends when they come in here, and I would never sell a bad pet to a friend."
2730 18th St. S., Homewood, Alabama